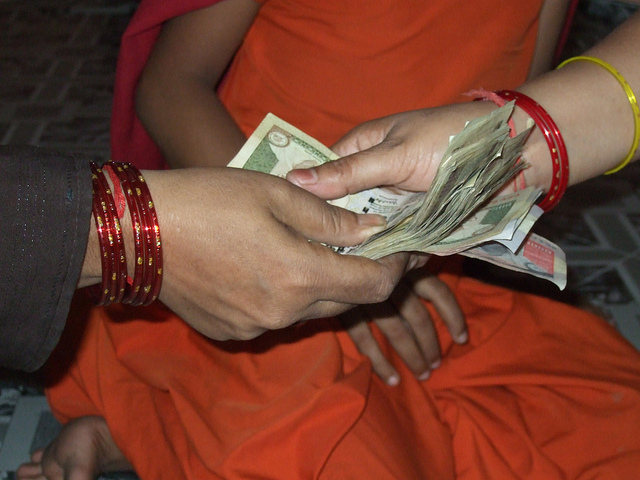 Simply put, financial inclusion is providing basic financial services like credit, deposits, insurance, payments, remittances etc. to all people without any discrimination.
The basic prerequisite to access these financial services is to have a bank account.
Why is financial inclusion important?
It has assumed significance in the recent decades as it helps to reduce poverty and inequality and thereby promote inclusive growth.
India grew at a rate of 7.3% in the year 2014-15 and as per most economic forecasts, it is expected to grow at a healthy 7% in the fiscal year 2015-16. It can be safely concluded that  India has entered a high growth rate trajectory again after a brief slump in the years 2011-12 to 2013-14.
But, the critical challenge facing India is that this growth has not been inclusive. High growth has been accompanied by persistent poverty and inequality. According to World Bank's overview, more than 400 million of India's people still live in poverty and many of those who have recently escaped poverty (53 million people in the year 2005-10) are still highly vulnerable to falling back into it.
To ensure that the benefits of growth trickle down to the poorest, inclusive and sustained growth is a must.
How does financial inclusion help in poverty reduction?
Access to a savings instrument helps poor people to mobilise their small savings so that they can use it in the future at the time of possible emergencies. It reduces economic vulnerabilities. Without Financial Inclusion, poor will either keep their surplus cash with themselves under their pillows or fall prey to illegal activities of chit funds like in the Saradha chit fund scam in West Bengal, when thousands of poor lost their hard-earned money.
Access to affordable credit ensures that poor people can secure credit for transactions, investment, social functions like death rites; marriages etc at affordable rates.  It enables small businessmen to avail credit for expansion of their activities. It encourages innovation and entrepreneurship amongst the poor and helps them break free of the vicious cycle of poverty. The Nobel laureate, Professor Muhammad Yunus advocates that credit is a basic human right as it gives an opportunity to the poor to work their way out of poverty by generating their own income as well as employment.
Access to a basic insurance product helps poor mitigate their risks related to drought, health shocks etc.
Access to remittances facilities enables poor people to transfer payments to their families. To illustrate: A migrant labour from Bihar working in Maharashtra can transfer his limited income to his family members safely and without any difficulty.
What are the steps taken by the Indian Government to further financial inclusion?
Though it seems that policymakers have woken up to the challenge of financial inclusion only in the last few decades, it is certainly not a recent phenomenon in India. It began in the year 1904 when co-operative banks were established in the country.
More recently, on 28th August 2014, Government of India launched the Pradhanmantri Jan Dhan Yojana (PJDY) scheme for the people. The scheme was announced on 15th August 2014.
Pradhanmantri Jan Dhan Yojana (PJDY)
PJDY is sought to be implemented in two phases. In the first phase, each household in the country will be provided with the following,
At least one zero-balance bank account
Overdraft facility of Rs. 5,000 which can be availed after 6 months of opening the account
RuPay debit card
Personal accident insurance cover of Rs. 1 lakh.
Those who open the account by 26th January  2015 will be given a life insurance cover of Rs. 30,000.
In the second phase of PJDY, the following would  be offered to each household.
micro-insurance product
micro-pension product
In 2015, Government also launched a comprehensive social security network for the poor. This programme aims to enable poor people to buy life insurance and accidental insurance at minimal cost.
THE comprehensive social security network
Every person can subscribe to a life insurance of Rs. 2 Lakhs at a premium of just Rs.330 pa (This scheme is named as Pradhan Mantri Jeevan Jyoti Bima Yojana.)
Accidental insurance of Rs. 2 Lakhs at an annual premium of Rs. 12. ( This scheme is named ad Pradhan Mantri Suraksha Bima Yojana.)
In August 2015, RBI gave 'in principle' approval to set up payment banks to 11 entities.
These banks will be allowed to accept deposits (up to Rs. 1 lakh per customer) and provide payments and remittances facilities.
To sum up, an inclusive Financial System is essential to reduce poverty and inequality and to ensure that the benefits of growth are equitably distributed amongst the population.
Further readings: