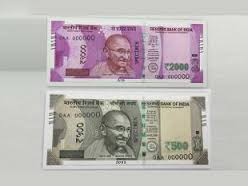 The Indian Government has discontinued the use of old Rs 500 and Rs. 1000 notes. This decision had become effective from the midnight of 8th November 2016.
The Demonetisation scheme was introduced mainly to unearth black money. 
Black money is a huge concern in India. As per a study by Ambit capital research, black money in India accounts for 25-30 % of GDP amounting to Rs. 30-50 lakh crores, which is larger than real economy of many nations like Argentina and Thailand. (1).