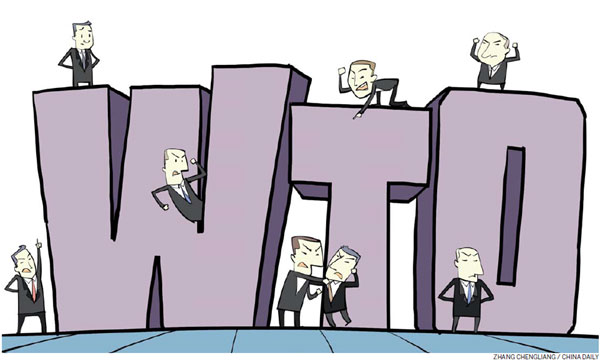 World Trade Organisation (WTO) is an international organisation with 164 member countries and headquarters in Geneva, Switzerland
The primary purpose of WTO is to reduce trade barriers between nations.
The agreements negotiated and signed by the member countries are an integral part of WTO. These agreements deal with global rules of trade between member countries.
WTO is a negotiating forum
It is a set of rules to govern international trade
It helps to settle trade-related disputes.
Origin of World Trade Organisation
World Trade Organisation (WTO) was established on 1 Jan 1995. It is a successor to General Agreement on Tariffs and Trade (GATT) which was in place since 1948.
Over the years GATT evolved through various rounds of negotiations.
The last GATT round was the Uruguay round which lasted from 1986 to 1994. This Uruguay round of negotiations led to the creation of WTO.
The WTO was established under the Marrakesh Agreement signed in the Uruguay round in 1994.
India is the founding member of WTO. China joined in 2001 and Russia in 2012.
As of 2017, WTO has 164 members and Afghanistan became the 164th member on 29 July 2016.
The core agreements of WTO are:
General Agreement on Tariffs and Trade (GATT)
General Agreement on Trade in services (GATS)
The Agreement on Trade-Related Aspects of Intellectual Property Rights (TRIPS),
Dispute settlement
Trade policy review.
(Read: The New Intellectual Property Rights Policy in India Explained)
Principles of the WTO agreements
Non-Discrimination– Non-Discrimination has two aspects: Most favoured nation (MFN) and National Treatment. Under the MFN, all WTO member countries should be treated equally, without discrimination. For example- India decides to lower basic customs duty for imports of iron-ore from China. This favour will have to be extended to all other countries. National treatment– Foreign goods and local goods must be treated equally.
Freer trade– All trade barriers should be lowered gradually through negotiations.
Predictability– There should be stability and predictability in the trade rules of a nation.
Promoting fair competition
Encourage development and economic reforms
Organisational Structure of WTO:
The decisions in WTO are taken through consensus among all member countries.
The top decision-making body is the Ministerial Conference. Ministerial conferences usually take place every two years.
The ministerial conference also appoints the director general of WTO. The current Director-General is Roberto Azevedo.
Day-to-day work is handled by three bodies:
The General Council
The Dispute Settlement Body
The Trade Policy Review Body
Ministerial conferences:
As mentioned before, ministerial conferences take place at least once every two years.
The fourth ministerial conference at Doha, Qatar in 2001 launched the Doha round of negotiations. It is not yet complete. The negotiations reached an impasse due to differences between the developed and the developing countries on various issues.
In the 9th Ministerial Conference at Bali, Indonesia in 2013, an agreement on 'trade facilitation' was reached.  The trade facilitation agreement is intended to simplify customs rules in countries by reducing bureaucracy and corruption.
The 11th Ministerial Conference will take place in Buenos Aires from 10th to 13th December this year.
Conclusion
It is difficult to reach an agreement in World Trade Organisation due to lack of consensus. The slow progress in the conferences has led countries to negotiate trade agreements outside of WTO. An example is the TPP.
Read: The Trans-Pacific Partnership Deal (TPP)- Explained
Liked this post? Don't forget to share
References