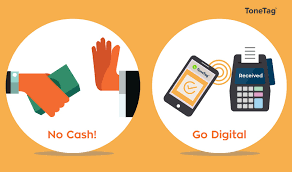 The current policy decision to demonetise high-denomination notes will provide a big fillip to the cashless economy. In this context, the Finance Minister Arun Jaitley remarked that the demonetisation  scheme will "not merely nudge the economy in the direction of the cashless economy but [give it] a significant push in that direction."
The scheme is expected to effect behavioural change by forcing people to adopt cashless means of payments. (Read more about demonetisation in this article: /demonetisation-of-currency-explained/)
The options available in India to go digital are debit cards, credit card, mobile wallets (Paytm, Mobikwik, Oxigen, Freecharge etc), United Payments Interface (UPI) etc. UPI was launched in August this year by the National Payments Corporation of India to make payments through mobile as easy as sending an email.
This article discusses the advantages as well as hurdles in making this transition to a cashless economy
Advantages of a cashless economy:
Reduction in the cost of printing of paper money: If a large part of the economy is cash-based, it translates into a huge printing cost. There is a cost involved in replenishing the defaced notes as well. The currency of lower denomination lasts less than a year. Further, these notes have to be upgraded frequently to include security features.
It takes a massive amount of effort and money to store and manage the physical cash piles. The movement of cash to settle transactions is a time-consuming and expensive process.
Keeping a large amount of cash is not safe. It makes a person vulnerable to robbery, burglary and theft
Cash is an anonymous store of value and therefore it is not traceable. Reduction in the usage of cash will minimise corruption and make money laundering more difficult. It will also hit the terrorist funding.
It will curb black money and bring more people and transactions into the tax net. As people adopt the digital technology, it will become difficult to generate black money because of traceability. Only 1% of our total population paid income tax in 2013. The tax-GDP ratio in India has remained static between 16 to 17 % since the liberalisation in 1991.
Hurdles in making the transition
Poor financial literacy: Indians will find it difficult to transact digitally due to poor financial literacy. It will prevent them from understanding and exploiting the full potential of the digital economy.
Poor financial infrastructure: Internet connectivity and smartphones are essential to run payment apps. Of India's 1.3 billion population, less than 300 million use the internet. Of the total number of people who own a mobile phone, only about 26 % have smartphones. Poor financial infrastructure makes going cashless difficult  (1)
Data security and privacy: There is a concern regarding security measures. Many people hesitate to transact online because they fear it is not safe. These concerns are not entirely baseless. In October, the State Bank of India had to block 6 lakh debit card following a security breach in an ATM.
People will find other innovative ways to generate and park black money. 
The transition process should be gradual as the economic disruption can be costly. The informal sector in India (accounting for 45 % of GDP and 80 % of employment) is largely dependent on cash.  Also, as per the fourth All-India Census of Micro, small and medium enterprises of 2006-10, only 4 % of the MSMEs are registered. This disruption in the informal sector can prove to be detrimental to India's growth story in the short run.
Nigeria, which is perceived to be as one of the world's most corrupt countries has a currency to GDP ratio of only 1.5 % (lower than Sweden). On the other hand, India 's currency to GDP ratio is 12.5%. So, lower cash does not necessarily mean reduced corruption.
To sum up, the demonetisation scheme will affect only the existing 'stock' of black money. However, if the economy becomes digital, future 'flow' of black money can also be effectively curbed. But, it is essential that the Government undertakes other structural reforms as well to prevent people from shifting to other avenues of evading taxes.
Source
(1) India's cash clean-up by the numbers: A guide to Modi's currency revamp (Livemint)