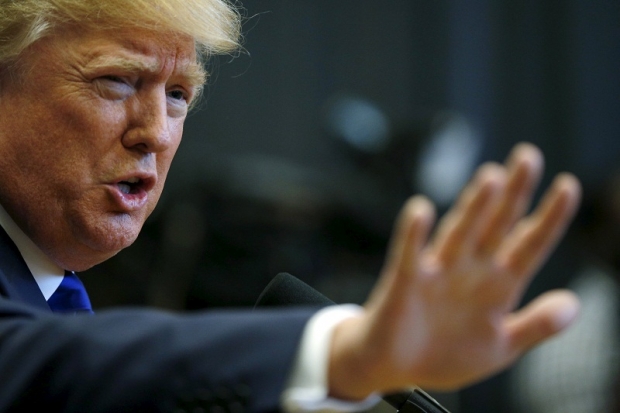 TPP( Trans-Pacific Partnership), a pact branded as the world's most ambitious free-trade agreement is nearly coming to end. Involving 12 Pacific Rim countries, including America, Japan and Canada, the Trans-Pacific Partnership represented roughly 40% of global GDP, and one-third of world trade. (Read in detail about TPP in this article: The Trans-Pacific Partnership Deal (TPP): Demystified)
US President-elect Donald Trump said that the US will quit the Trans-Pacific Partnership trade on his first day in the White house. He made the announcement in a video message giving a rough idea of what he plans to do first when he takes office in January. Mr Trump had called it a "horrible deal" while campaigning for the 2016 US presidential election. In pronouncing his intention this week to withdraw from it, he said it was "a potential disaster for our country". Trump claims that it will hurt American workers and undercut US companies. He has a strong belief that the average American farmer and auto worker will lose out because labour is cheap in developing countries like Vietnam, and Malaysia.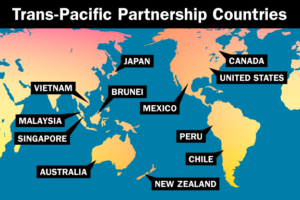 As per the rules laid out in the Trans-Pacific Partnership, the agreement allows for a two-year ratification period in which at least six original member countries – representing 85% of the combined GDP (Gross Domestic Product) of the group – should approve the text for the agreement in order for it to be implemented. The US accounts for nearly 60% of the group's GDP. With the US announcing its withdrawal, the Trans-Pacific Partnership agreement simply cannot enter into force even if all the remaining 11 member countries ratify the agreement. In simple terms, the Trans-Pacific Partnership , in its present form, is effectively dead.
| | |
| --- | --- |
|     TPP MEMBER COUNTRIES NAME |     TPP COUNTRIES  GDP (Nominal) |
| 1.  UNITED  STATES  OF AMERICA |                                 $18.56 trillion |
| 2.  AUSTRALIA |                                 $1.2 trillion |
| 3.  BRUNEI |                                 $17.060 billion |
| 4.   CANADA |                                 $1.462 trillion |
| 5.   CHILE |                                 $297.714 billion |
| 6.   JAPAN |                                 $4.412 trillion |
| 7.   MALAYSIA |                                 $375.633 billion |
| 8.   MEXICO |                                 $1.283 trillion |
| 9.   NEW ZEALAND |                                 $169.9 billion |
| 10.  PERU |                                 $180.291 billion |
| 11.  SINGAPORE |                                 $308.051 billion |
| 12.  VIETNAM |                                 $214.750 billion |
However, according to some trade experts, it may be too soon to bury the Trans-Pacific Partnership . Of course, the agreement can possibly survive if the remaining 11 signatory countries drastically change the rules governing its entry into force.
The TPP (Trans-Pacific Partnership) commended as the "gold standard" of trade and investment agreements has gone through various criticisms too.
1. One of the most contentious issues is the incorporation of the investor-state dispute settlement mechanism which would allow foreign investors from TPP (Trans-Pacific Partnership) member states to bypass domestic courts in host states and sue a host state through international arbitration proceedings. In short, investors can sue the government of TPP member states, while a government cannot sue investors.
2. It was also labelled as a secretive, multinational trade agreement that threatened to increase the clout of restrictive intellectual property (IP) laws across many countries and rewrite international rules on its enforcement.
Implications of America withdrawing from Trans Pacific Partnership on India-
Considering that Trump does not go back on his decision, India stands to benefit in an umpteen number of ways if TPP (Trans-Pacific Partnership) does not materialise. Here are a few of them:-
1. Strengthening of Regional Comprehensive Economic Partnership : The RCEP( Regional Comprehensive Economic Partnership) is a proposed trade deal between the 10 countries of the ASEAN (Association of Southeast Asian Nations) and the six other countries including Australia, China, India, Japan, South Korea and New Zealand with which ASEAN has existing Free Trade agreements.
There has been pressure on India to conform to stricter standards of labour, intellectual property rights and investment. Countries participating in the Trans-Pacific Partnership and Regional Comprehensive Economic Partnership Trade deals had been arguing in favour of it. India, however, has been opposed to such unwelcomed demands.
In many important ways, the forthcoming collapse of the Trans-Pacific Partnership has eased the pressure on India – which is not supportive of the RCEP's ambitious agenda on inflexible IPRs (Intellectual Property Rights) laws, investment policy and zero tariffs due to the potentially negative impact it could have on local Indian producers and businesses.
2. The flow of goods, services and investments among the partners will cut down. This will pave the way for India's traditional market. The Trans-Pacific Partnership positioned textile manufacturer Vietnam and information technology outsourcing powerhouse the Philippines in a favourable position to get access to the high-value
American market.
India's domestic textile industry has been continuously eclipsed by nations like Bangladesh and Vietnam with cheaper production costs and aggressive marketing. "Of India's $40-billion of textile export, $9 billion goes to the US. If Vietnam gets greater market access, this figure will see a decline of $2-3 billion," says economist Atul Mishra from the Confederation of Indian Textile Industry.
3. It is conspicuous that the United States is moving towards bilateralism giving India to engage in a more attentive manner on a case-by-case basis.
Also, there are chances that the United States will go for WTO (World Trade Organization) route for multilateral trades, of which India is a staunch supporter.
Conclusion
Overall, the Trans-Pacific Partnership minus the United States of America will be beneficial to the RCEP  ( Regional Comprehensive Economic Partnership) agreement, as it will gain increased prominence, leading to increased safeguarding of Indian interests concerning trade in goods and services sector.
References:
1. The TPP is dead : What happens next? -The wire